Eddie Van Halen: Dead at 65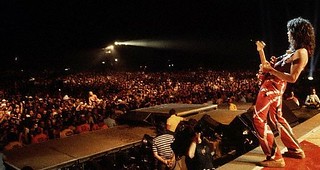 Eddie Van Halen died on October 6th after years of battling cancer. The legendary rocker's death has shaken the rock community, with many famous stars paying tribute to him on social media. Van Halen's first wife and mother to his son Wolfgang, Valerie Bertinelli tweeted:
     "Through all your challenging treatments for lung cancer, you kept your gorgeous spirit and that impish grin. I'm so grateful Wolfie and I were able to hold you in your last moments." 
     His son and bandmate, Wolfgang Van Halen announced the news of his father's death in a post that read:
     "I can't believe I'm having to write this, but my father, Edward Lodewijk Van Halen, has lost his long and arduous battle with cancer this morning. He was the best father I could ever ask for. Every moment I've shared with him on and off stage was a gift."
     Eddie Van Halen and his brother, Alex, were part of the legendary 70s rock band, Van Halen. The two siblings were born in the Netherlands but moved to America in 1962. Eddie Van Halen played the guitar and Alex, his brother, played the drums. They were eventually joined by David Lee Roth as the lead vocalist and Michael Anothy as the bassist. 
     The band's self-titled debut album, "Van Halen" was released in 1977, and peaked at #19 on the Billboard 200 charts. Their debut album included some of the band's iconic songs, such as: "Running with the Devil," "Jamie's Cryin'," and "Ain't Talkin' 'bout Love." The album also features the instrumental song, "Eruption," which displayed Eddie Van Halen's famous tapping technique, using fingers on both hands to play a solo on the guitar's neck. Eddie Van Halen co-wrote every original song that Van Halen released.
     Eddie Van Halen also played in several songs on movie soundtracks including "Back To The Future," "Over The Top," "Twister," and "Lethal Weapon 4." Additionally, he played guitar on Micheal Jackson's classic song, "Beat it." Van Halen was inducted into the Rock and Roll Hall of Fame in 2007. 
     Eddie Van Halen has been battling cancer for over a decade. In 2019, it was reported that he had been flying between the US and Germany for radiation treatment. Sources close to the family said that he died at St. John's hospital in Santa Monica, California. His current wife Janie and son Wolfgang were by his side, as well as his ex-wife, Valerie Bertinelli, and brother and bandmate, Alex Van Halen. 
     Eddie Van Halen has joined the list of celebrities we've lost in 2020. His death has shattered the music community.