The Battle of the First Ladies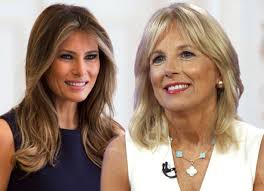 With the election approaching, both candidates are scrambling to get all of their points and opinions out. While there are many articles comparing and contrasting the plans of President Trump and Democratic nominee Joe Biden, there is not much information on what their wives plan on doing if their husbands are elected to office, or, how they stack up compared to one another. Here is a guide to the plans of First Lady Melania Trump and Former Second Lady Jill Biden.
     First Lady Melania Trump was born in Novo Mesto and moved to the United States in 1996 to pursue her modeling career. She married President Trump in 2005 and a year later she became a US citizen. She is the second first lady to be born outside of the US and the first whose native language is not English. 
    While in office, her main focus has been on branches of bullying. Before the 2016 election, she condemned the current culture which protects bullying. 
     "Our culture has gotten too mean and too rough, especially to children and teenagers. It is never okay when a 12-year-old girl or boy is mocked, bullied, or attacked." Trump said. "It is terrible when that happens on the playground. And it is absolutely unacceptable when it is done by someone with no name hiding on the Internet." 
     Two years after making this statement, she declared cyberbullying to be her main focus while First Lady, starting the "Be Best" campaign in 2018. For this campaign, she created booklets that advocate against drug use and the n  of children along with cyberbullying. 
     Dr. Jill Biden is a native of Pennsylvania and a graduate of the University of Delaware where she studied undergrad and received her doctorate. Since her husband's election in 2009, she has been working as an English professor at Northern Virginia Community College and is considered to be the first second lady to hold a professional job while in office. 
     During her time in office, her main concern was raising awareness about the importance of community colleges across the country. She was a huge supporter of this cause, and would often go on speaking tours at junior colleges. In 2011, she worked with former First Lady Michelle Obama to start the initiative, "Joining Forces"; her efforts brought awareness to the needs of military families and veterans. Once her second term was over, she founded the Biden Foundation alongside her husband Joe. This foundation has the broadest focus, working on domestic violence against women, military families, and community colleges. 
     Both women advocate for important issues alongside their powerful husbands. While it might not seem as important, their campaigns reflect their husbands as well. The actions of the first lady should impact your decision on who to vote for in November.