Nichols Named New Track and Field Coach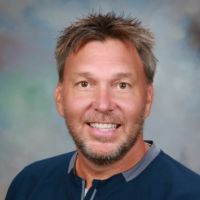 As 2020 kicks off, and St. Andrew's makes changes for the new calendar year, Coach Cupples announced Johnny Nichols as the new track and field coach for varsity and middle school track.
     "I'm very excited to be the new track coach here," Nichols said. 
     Nichols has already started planning goals for his runners. He is ready to work with every runner and push them to beat their posted time from last year. He wants every runner to set goals for themselves and work on being positive during meets. 
      "The big plans are to go out there and compete at each meet," Nichols said. "The biggest goal is that track members set goals for themselves and try to reach them every day."
     As the new coach, Nichols' main focus is to improve athletic performance. In order to reach their goals, runners have to not only improve mentally but also physically. Creating good habits such as eating better and training smarter will help runners build muscle and speed.
      "When we go out there, we try to improve and develop good habits," Nichols said. "That's what we really want." 
    Basketball coach Michael Timmer has been friends with Nichols ever since he came to St. Andrew's, he thinks Nichols is very talented and perfectly fitted for the new job. Timmer also believes Nichols is a great motivator and builds good connections with his players. 
     "I've gotten to know coach Nichols over these past 3 years, great guy, one of my favorite people on this campus," Timmer said. "The thing that stands out to me the most about Coach Nichols is his ability to make adjustments on the fly; he could scrap his whole game plan and change it to go and win a ball game. Another thing that I love about him is how he relates to his players, they all buy-in, he's a great motivator. They absolutely love playing for him."
    Nichols hopes to see new faces on the track team this year and encourages anyone interested to join. 
    "I would love for them to come out and give it a try," Nichols said. "I mean track is running, it's tough. You have to push yourself every time you step on the track. I would encourage anyone to come out and compete. I'm looking forward to working this year with all our students here at St. Andrews."