THE BENEFITS OF CROSSFIT
February 7, 2019
Filed under SPORTS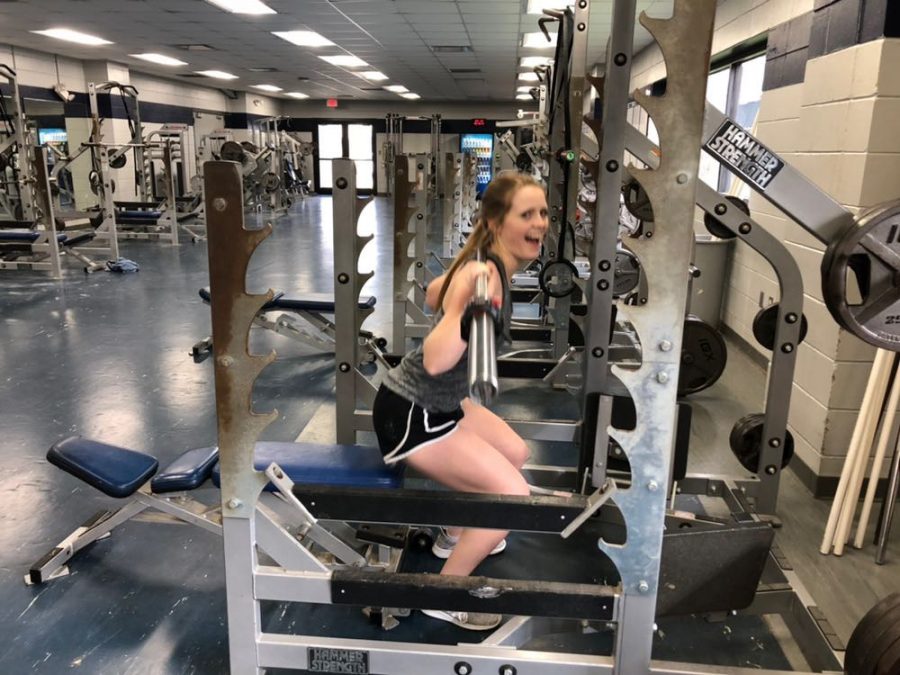 It's a Wednesday afternoon and you and your team are in the weight room listening to loud music while completing rounds of tiring box jumps, sit-ups, and ladders. As you finish up the warm up, you look up at the clock and realize that you have another 45 minutes of exhausting workouts. Later you make your way out to the track and line up behind the white line. Coach Josh Parks yells "go!" and you take off running towards the end of the crossfit training session when you can finally rest, feeling tired and accomplished. 
Crossfit is offered to every sport at St. Andrew's but is specifically used by volleyball, soccer, baseball, football, cheer, archery, and basketball.
    "The Saints' strength and conditioning program incorporates the crossfit philosophy to help each student athlete to reach their full athletic potential," Parks said. "In the weight room we focus on functional movements that can apply to any and all aspects of not only sports but life in general."
    Many athletes love how crossfit requires them to workout when they aren't individually motivated stay in shape themselves. Junior Anna Jordan Hendrix, a volleyball player and crossfit lover, enjoys the workout aspect of crossfit and how the team is brought together through hard work and conditioning.
    "Without crossfit, I would have no desire to workout, so I would just sit in the weight room and watch my friends suffer while I drink sweet tea," Hendrix said. "If everyone showed up to crossfit, imagine how much stronger and faster we could be. I think it's the tedious things like crossfit three times a week that helps teams win state championships."
    Sophomore Web Watkins is a member of the SA baseball team and attends crossfit led by Parks. He enjoys how crossfit improves the team's physical wellbeing and provides a challenge for them. The baseball team does crossfit three days a week. Watkins believes that the challenges of crossfit are necessary to the success of their season.
    "I think we do need it," Watkins said. "We can't get better by just sitting around and hoping we can be as strong and athletic as we need to be. We need to get work in that ensures that we're ready come time for games. The reason crossfit is beneficial I would say is just the fact that it is keeping us in shape and helping us be better athletes."
    Workouts at crossfit include weight lifting, running on the track and bleachers, pushing sleds, pullups, lunges, and many more beneficial exercises. Parks works hard to design certain workouts in order to appeal to specific sports teams and the muscles they use while playing their sport.
    "Each workout is different based on their sport specific needs and changes depending on the time of the year," Parks said. "For example, the needs of a football off season program are different from cheerleading. Football off season requires lifting heavier weights and fewer reps to gain strength and mass. Cheerleading needs more reps with light to moderate weight to acquire muscle tone. Sport specific programs are another way workouts are different. Baseball and tennis require more rotational movements as opposed to basketball which uses vertical and lateral movements."
    Not only does crossfit improve a team's fitness level, it can also bring a team closer as they workout together. Some crossfit goers share their funniest moments from crossfit, because even though working out can be hard, the SA crossfit program has left lasting memories with some student athletes.  
    "One time we had a dance off at the end of a workout and Avery danced worse than anyone I've ever seen," Watkins said.
    Hendrix shares a humiliating moment from crossfit that she still finds funny to this day.
    "Because it was going to be the last crossfit of the summer, Coach Nichols and Coach Parks said that we were going to have a 'fun and competitive day,'" Hendrix said. "I cannot think of two words that could possibly describe that day worse. I'll spare the details, but basically the 'fun day' ended with my head in a trash can with a combination of the football team, the volleyball team, and others all patting me on the back as I died."
    Although crossfit may sound like it may be too difficult or hard on the body, with the right trainer and atmosphere, it can be beneficial in gaining you strength, agility, and lasting memories.